G Force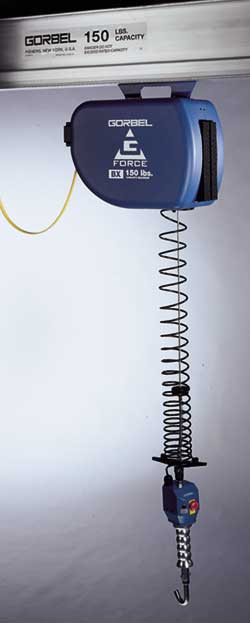 The G-ForceTMis part of a new family of Material Handling equipment known as Intelligent Assist Devices (IAD's). The G-ForceTM uses patented technology and an industrial processor controlled drive system to deliver unmatched lifting precision and speed. The units enable operators to lift and maneuver naturally, as if the device were an extension of their own arm. The G-ForceTM will help improve productivity, reduce the cost of product damage, and minimize work related injuries.

The G-ForceTM is available in two series: the BXi series and the streamlined BX Series (lower cost alternative). Both series are available in 150#, 300#, and 380# capacities.



Features:
Pinpoint precision - speeds from 1 fpm (0.3 mpm) up to 275 fpm (83mpm)
Blazing speed - travels up to 4 times faster than traditional high end lifting devices
Infinite speed control - ideal for applications that require high speed at some points in the cycle and slow, precise movements at other points
The G-ForceTM ILD gives the responsiveness and flexibility of a human operator plus the power of a machine. It incorporates a range of speeds so it is perfect for quick, repetitive motions and slow, precise placements.
**New Ergonomic Lifting Study shows that the G-Force outperforms other lifting devices in both high cycle and precision placement applications.