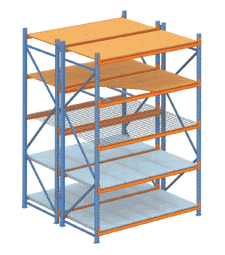 Our wide span shelving is designed for those warehouses where goods are not transported and delivered in a pallet, but are placed and picked manually from the racking, that is why we also call them picking shelves. Access is at ground level or from raised catwalks between the racking. It is ideal when there are a lot of references and when rotation is only partial.

Wide span shelving is appropriate for medium and heavy loads.

The levels are formed with bolted frames and beams. Frames are blue and beams are orange.

Shelves can be made of metal or particle board and they rest directly on the inner step of the beams. Cross ties are available to increase level load capacity.